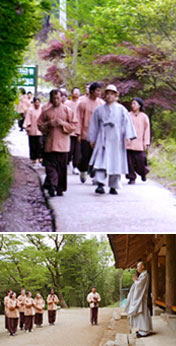 View and Read More

A large number of Korea's cultural assets are Buddhist in nature - more than 65% in fact. Buddhist temples are among the most impressive and comprehensive of these assets, preserving a variety of national cultural assets such as architecture, sculpture, crafts and paintings. These represent religious and artistic creations spanning from the 7th century in the Three Kingdoms Period through the Joseon Dynasty, which ended in 1910.

Temples utilize and display traditional architecture, and house and utilize other historical assets like paintings, Dancheong (Buddhist ways of coloring), Seungmu (Buddhist dancing), and Bumpae (Buddhist music). Korean traditions are maintained by temples as living arts.

Most Korean temples are located deep in the mountains. This is a unique aspect of Korean Buddhist culture. Temples blend harmoniously with their natural environment, enhancing the landscape and embodying serenity. One can feel at peace in such a place, and also experience traditional Korean culture at these sites.