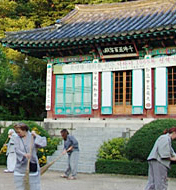 View and Read More

Ulyeok means residents in the temple all work together. Ulyeok represents Korean Seon tradition well. One rule of Seon is a day without work is a day without food. All Korean temples keep this rule, and it is not merely an admonishment, but in the self-sufficient life in a remote Buddhist temple it is an axiom of practicality.

Normally Ulyeok starts after breakfast, and may include farming, cleaning the living quarters or sweeping the courtyard. This is not just physical work, but should be seen as another way of practicing and developing patience and discipline. While not as intensive as Seon meditation, the rhythmic routine of basic work affords a strong foundation for the monks' daily practice.

Also, after meditating, reading sutras, and worship, monks find Ulyeok relaxing. Sweeping autumn leaves from the courtyard or snow from the pathways provides an opportunity to relate quietly with nature and with each other in the community of work. Taking part in Ulyeok is a way for visitors to express gratitude to the hosts, and to join in an important daily ritual.