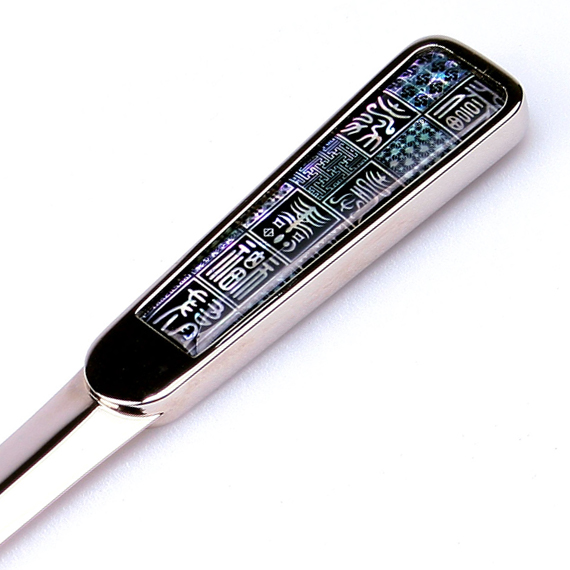 View More Pictures

Geumgangsan, or 'Diamond Mountain,' is one of the most famous mountains in Korea, known for its fascinating rocky peaks and valleys. The painting on the paper of this fan exhibits a peaceful autumnal scene and serene mood of a temple surrounded by rocks, pine forests and a stream flowing through a valley. The intricate pyrography bat design engraved on the bamboo ribs create a wonderful harmony with the beautiful lines made by the wide breadth of the unfolded fan's outline and the attractive three-dimensional creases of the paper arranged neatly.

The main material of hapjukseon, bamboo that has grown for three to four years without any flaw on its skin, is prepared by harvesting it during the winter. The two edge ribs of a fan should be made by using thicker bamboo strips with close joints. A fine hapjukseon fits beautifully in the hand and the flexibility of the bamboo ribs creates a wonderfully pleasant breeze, neither too strong nor too weak. In fact, the secret is hidden in the glue used to apply the mulberry paper onto the bamboo ribs. Made from the air bladder of a type of fish called a croaker, this unique fish glue is the same adhesive used for many traditional craftworks of Korea, including mother-of-pearl objects, furniture and bows and arrows. Only when this fish glue is used, a hapsukseon can attain the optimum pliability and strength that it needs.

Korean mulberry paper called hanji is extremely light and strong, and maintains its original color and shape even after a millennium. Featuring glossiness, softness, and a high capacity for upholding warmth and ventilation, the paper has been considered as the ideal material for windows, doors and walls.