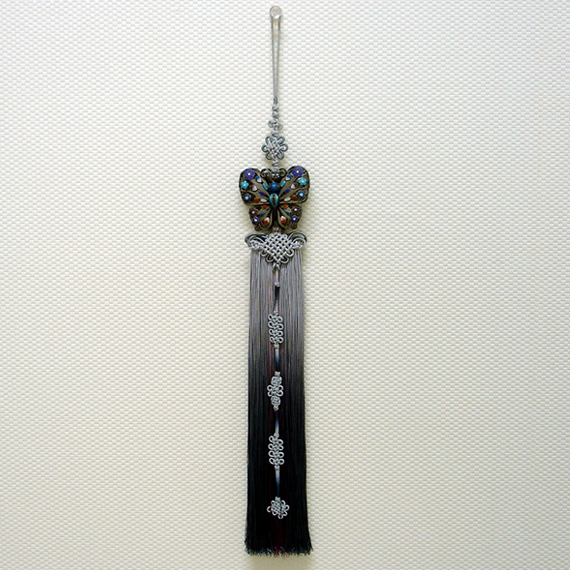 View More Pictures

This unique decorative hanging exhibits the beauty of Korean macrame and cloisonne. The central piece of this hanging is a beautifully cloisonne enameled fine silver butterfly, a symbol of free love and happiness that has been used to decorate ladies' fashion or home accessories.

Unlike macrame, the Western knotting art that makes two-dimensional works, Korean macrame (maedeup) creates an enigmatic elegance of balance with finely wrought three-dimensional patterns made from a single string. Korean macrame is characterized by the beauty achieved by the trinitarian union of string (kkeunmok), knotting (maedeup) and tassel (sul). The main part of a maedeup piece knotted with two strands into various organic symmetrical patterns and shapes; and a tassel at the end freely hanging down creates the final touch to highlight the colors and patterns of the entire work.

The distinctive and elaborate feature of Korean tassel making, is weaving the design of auspicious Chinese characters, such as Su ('Long Life') and Bok ('Fortune'), into the head with chords. The bottom end of each chord freely hanging down also displays a special finishing touch: all the chords' ends are twisted, rather than cut, so that they are round, thus, embodying additional volume and beauty. The trinity of this work establishes perfect harmony with a delightful cloisonne silver ornament. This kind of macrame works called Norigae with a cloisonne ornament or various jewels has been used as a customary fashion item worn on the breast tie or the waist of hanbok, the traditional Korean dress.