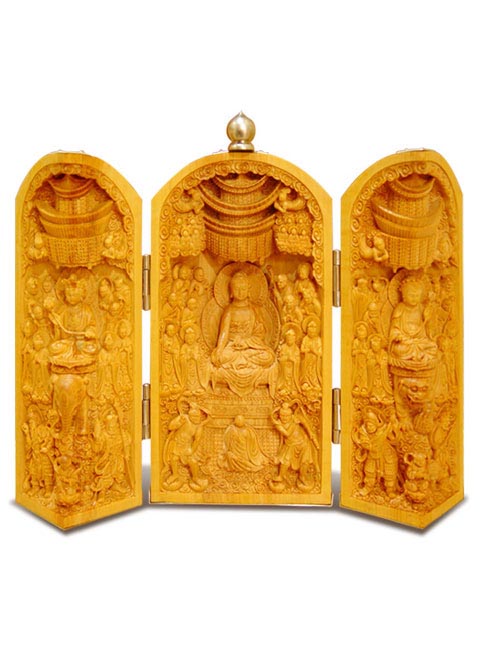 View More Works by This Master

This little Buddhist shrine, which when folded up is cylindrical in shape, is a reproduction of a portable shrine carried by a traveling Buddhist monk or nun long ago. Amitabha Budda, in the central part of the shrine, is assisted by two bodhisattvas, Munsu (or Manjusri Bodhisattva) who represents Great Wisdom, and Bohyeon (or Samantabhadra Bodhisattva) who represents Universal Virtue.

This shrine is made of torreya wood and is finished by applying fragrant jeondanhyang oil, which protects the shrine from harmful insects and decay. Also known to have been the material used for the carving of the first Buddha image in ancient India, jeondanhyang wood is more expensive than gold.

Widely regarded as one of the masterpieces by Park Chan-soo, this exquisite piece is the result of three years of arduousness, in which the artist depended on only traditional carving tools. This work of art shows the zenith of elaborateness sculpted by human hands.