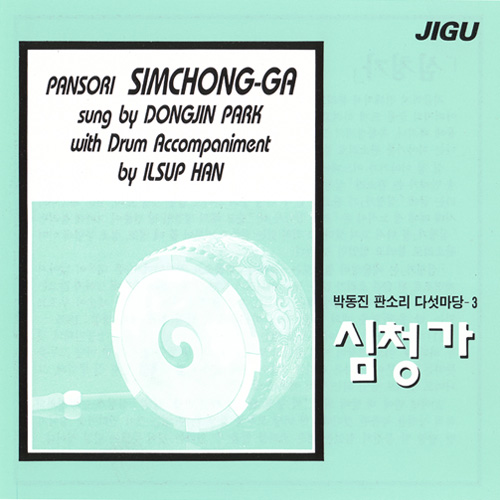 Listen to Samples

This album leads to the wonderful world of Pansori, a traditional Korean art form combining storytelling and music, through the magnificent performance of Park Dong-Jin. He particularly presents Shimchong-ga (the story of simcheong and her blind father), one of five extant Pansoris.

Pansori is one genre of traditional Korean performing arts. In Pansori, one singer, accompanied by a drummer, presents a long story in the form of a dramatic narrative generally sung with spoken commentary interspersed. The stories do not lack for dramatic climaxes. In fact these "high points" serve to give the stories their dramatic structure and to maintain audience interest.

The audience can enjoy the combinations of rhythm, beat, and phrasing and intonation of vocal in Pansori. Although the ways of arrangement are basically established in Pansori performance, they feel a kind of spontaneity or improvisation.

Of the 12 lyric dramas, currently there are only five Pansoris still being performed which include Sugung-ga (the journey of the rabbit and turtle to the underwater kingdom), Simcheong-ga (the story of Simcheong and her blind father), Jeokbyeok-ga (the story of the big battle at Red Cliff), Choonhyang-ga (the love story between Chunhyang, the daughter of a kisaeng entertainer, and Yi Mongryong, the son of a magistrate), and Heungbo-ga (the story of two brothers, Heungbo and Nolbo). "Ga" means a "song." Even the shortest one lasts 4 hours and the longest one lasts as long as 8 hours. The singer continues to perform without intermission.

The singer must portray the personalities of all the characters in the story through Chang (song), Aniri (spoken song), and Ballim (gesture). And the drummer joins in with Chuimsae which is decorative vocal adorations and sounds of encouragement given to the singer.

Simcheong-ga is the most tragic of the five extant Pansoris. Within the dramatic framework Simcheong is contrasted by the comic relief provided by Ppaengdogomi and a happy ending. Structurally the story falls into three parts: Shimcheong in childhood, as a young girl, and reincarnated as a queen. The second portion is the most outstanding musically; from the point where Shimcheong goes to Minister Chang's house to the point when she is sold to sailors and throw herself into the sea.

Once Simcheong is ready to die, she does not lament her tragic fate. On the contrary, all of her songs become prayers for her blind father. This draws an even more emotional reaction from the audience. Simcheong-ga has the tragic climax realized from the point where Simcheong follows the sailors to the scene where Simcheong throw herself into the sea. Simcheong-ga has all the technical musical idioms of Pansori, so it has become a favorite among singers while been also acknowledged as the most difficult passage in all of Pansoris.